A&D Weighing FC-i Parts Counting Scales
One of the most powerful and useful features of A&D FC-i Counting Scale is ACAI, Automatic Counting Accuracy Improvement. It is not a new feature but a feature AND Weighing had incorporated to the first generation of FC counting scales in order to maximize the accuracy of counting without sacrificing ease of use. However, once in a while we, and the people at the factory, get asked why it is there or even if it can be removed. The reason is simply that some operators do not understand how it works. Since the theory behind the ACAI involves some knowledge of statistical mathematics about errors, it sometimes discourages people to even try to understand what it is. In reality, ACAI is a result of the careful observation of how a counting scale is being used at workplaces.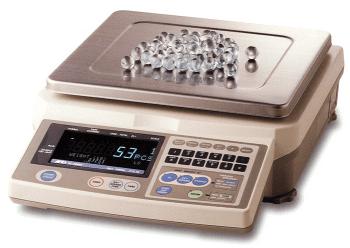 High Resolution: 1/10 million internal for FC-Si models and 1/1 million internal for FC-i models

500 ID Memories with 6 Digit ID to store and retrieve up to unit weights, tare weights, comparator limits, accumulator and 12 digit alphanumeric codes/names.

LED display steps operator through the proper keys without a manual — virtually eliminates operator training time

Simplified Operation Mode disables all but the essential keys

Four Displays always show weight, average piece weight, piece count, item code, tare weight and accumulator

ACAI Counting Function continuously updates the average piece weight. Provides increased accuracy for parts with inconsistent weights

Automatic Counting Accuracy Improvement (ACAI) ensures quick, high count accuracy with minimal hand sample count.

Display prompting eliminates operator errors and maximizes count accuracy

Optional NiMH built-in battery pack allows recharge while unit is still in use

Rugged Aluminum Die-Cast Frame Housing with Splash proof Display and Keyboard.
Model

FC-500Si

FC-5000Si

Capacity
(metric)
Display
Resolution (g)
Capacity
(lb)
Display
Resolution (lb)
Min.
Unit Weight Unit
Sensitivity
Drift

0.001%/°C
(5°C ~ 35°C) typical

Calibration
Weight
Pan
Size

165 x 165 mm / 6.5 x 6.5"
Model
FC-500i
FC-1000i
FC-2000i
FC-5000i
FC-10Ki
FC-20Ki
FC-50Ki
Capacity
(metric)
Display
Resolution (g)
Capacity
(lb)
Display
Resolution (lb)
Min.
Unit Weight Unit
Sensitivity
Drift

0.002%/°C
(5°C ~ 35°C) typical

Calibration
Weight
Pan
Size

300 x 280 mm / 11.8 x 11.0"
Contact the sales team at Central Carolina Scale for a quote today